Dossiere is a highly secure and feature rich electronic solution that provides access to board, executive and confidential papers. Using an unparalleled document security system you can easily view, annotate, share and collaborate on important documents seamlessly.
DOWNLOAD THE iOS APP
START YOUR FREE TRAIL
We offer a 45 day free trial so you can see if Dossiere is right for your team.
MEETINGS
Dossiere makes organising and distributing meeting agendas simple and efficient. Create meetings, agendas and upload documents for your meeting attendees to review and annotate before the meeting begins.
Allow your teams to collaborate and share their comments securely with each other. Documents can be bundled and accessed securely for review pre meetings.
DOCUMENTS
Dossiere gives you the control over how to consume and collaborate around the documents, videos and audio files that are delivered to your device.
View images, video and audio files at the same time that you are reviewing the relevant documents. Create document annotations or timeline annotations in your audio and video files.
COLLABORATE AND ANNOTATE
Dossiere allows you to annotate documents and then securely share your own notes with meeting attendees or advisers. 

These features can be used to productively collaborate around all types of documents. It enables you to be prepared for meetings by reviewing your advisors' comments alongside your own.
INDUSTRY LEADING SECURITY
Dossiere uses military grade encryption and regular code and implementation audits to give you the security you need for your confidential documents. 

If you need even more security, contact us to talk about our solutions for handling classified documents up to secret level.
WORK OFFLINE
View and annotate your documents even when you are working offline. The full feature set is available while you are working, allowing you to view, search, annotate and set up collaboration.
Once back online, any inbound or outbound sharing will be synchronised with the server, allowing other team members to see what you have shared.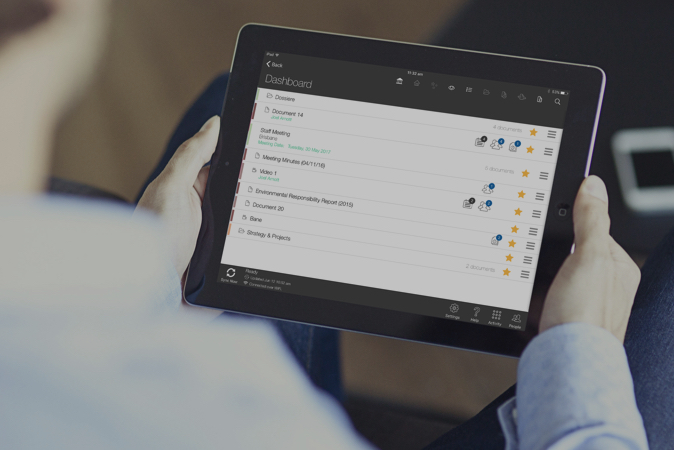 OUR CLIENTS
The Dossiere solution is used by corporate clients and government departments to provide state of the art secure access to documents for board and executive leadership groups.
CONCIERGE MANAGEMENT TOOL

To enable your support team to manage meetings and document libraries, Dossiere provides a web based management tool named Concierge.

Concierge allows support administrative teams to schedule, administer and define meetings for the end users as well as manage users, libraries and configuration of the entire system.
WANT TO TRY IT OUT?
We offer a 45 day free trial so you can see if Dossiere is right for your team.